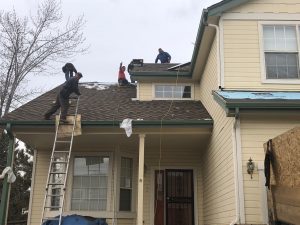 At Strait Line Roofing Services, we've been installing residential and commercial roofing products in the Denver area since 2002. During that time, we've had the opportunity to see how well (and how poorly) various brands of roofing shingles hold up to the hail, icy buildups and windstorms we experience in the Front Range. As business owners and homeowners in areas like Jefferson County and Westminster know all too well, sometimes all three can occur in a matter of days!
There are a lot of roofing materials we can choose from, but we're very selective. Based on our experience, we use products from just a few of the premium roofing manufacturers – including GAF. GAF is North America's largest roofing manufacturer for very good reason. GAF products have the highest wind rating in the industry – they simply don't blow off. And they have the thickest shingles on the market, which makes a huge difference when it comes to durability.
We're a GAF-certified installer – not only because we like the way GAF products look and perform, but because we appreciate their service ethic. Unlike most other suppliers, GAF reps aren't afraid to show up after the sale and visit us at a worksite to check in and watch us in action. Apparently GAF is as choosy about their contractors as we are about our suppliers!
If you've just endured one of the Front Range's notorious hailstorms or windstorms, give us a call. We'd be happy to take a look at your roof and tell you whether it has survived unscathed. And if you do need a new roof, we'll take the time to talk with you about the terrific selection of attractive, durable shingles from GAF that we can expertly install for you!